HP DesignJet T525 ePrinter – 24in
E-mail: Nicola@hpplotter.co.uk
Seller Address: Resolution GB Ltd, Park Farm, Rectory Road, Oakley, Hampshire, RG23 7ED
Location: Nottinghamshire
Estimated Year of Manufacture: 2019
Remaining Warranty: 1 Year
Delivery Possible?: Yes - delivery an optional extra as detailed
Remaining Ink: Starter Inks
Resolution GB Ltd, Park Farm, Rectory Road, Oakley, Hampshire, RG23 7ED
Printer Dimensions (w x d x h):
More information about this printer:
Standard Delivery: £40+VAT
Placement Delivery: £195+VAT
This printer is classed as Gold Phoenix Stock. This is brand new stock which has been returned by the customer to HP for whatever reason and is in "as new" condition with a full set of starter inks installed combined with a full 1-year manufacturer's warranty included in the price. The printer has also had a full service to ensure it's in tip-top condition and in perfect working order before it leaves HP.
You can choose between standard kerbside ground floor delivery or placement delivery. Placement delivery requires you to complete a form and this price may change depending upon the complexity of the placement required. For 'easy' placements where the printer can be maneuvered easily into its final location, the price is as above. If you require delivery to the 4th floor with no lift then the price will be different. For placement deliveries 2-4 men (depending upon the size of the printer) will place the printer where you require it in your building. This involves unboxing the printer, placing the printer on the stand (if applicable), and removing outer boxes/pallet from site.
By contacting the seller you agree to the term that Resolution GB are not responsible for the sellers advert. Responsible measures must be taken when parting with funds. Please report sellers if you have any issues.
HP DesignJet T230 24-in A1 Printer (5HB07A)
World's smallest printer - ideal for building industry or general use. Mac & Windows compatible. Robust, low cost, intuitive, Wi-Fi enabled. 1 year warranty. 512MB memory. Three optional extras (stand, roll cover, sheet feed tray).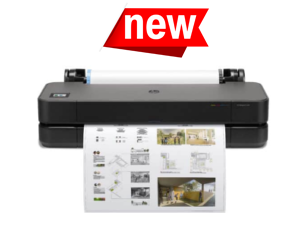 Price ex VAT: £539.00
DesignJet Ink and Paper
With any great printer you'll need regular supplies of HP original ink and paper/media.
We offer:
A huge variety of media
Low prices
Fast same day despatch
Brand names include HP, SIHL, Hahnemuhle, Canon, Innova and more!
DesignJet Installs, Servicing, & More
We can help you with:
Installs/de-installs
Ad hoc Service/Repairs
Printer moves
Annual Support Cover
Spare Parts
01256 783390
hello@resolutiongb.com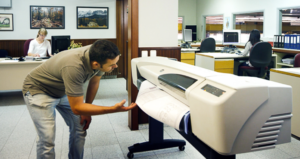 Price ex VAT: POA